Jen messaged me about having a custom-made Coquette hat made for a wedding she was attending in May. As soon as I saw the picture of the mustard yellow dress she was planning to wear, I was excited to start working on her pillbox hat! Jen told me she liked the pink and red Coquette with the birdcage veil, but wanted a teal coloured version. I found a gorgeously luxurious teal pure silk fabric to make the base, and a teal net for the veil.
For the flowers on the top, I used red silk to make a few handmade flowers, and add to the pink and green composition. With a few touches of yellow to finish it off, the fantastically brightly coloured end result was a hit with Jen.
I couldn't help but wish she'd send me some pictures of the whole outfit. And here they are... Colour combo perfection in my eyes! Thank you so much for an exciting and certainly very satisfying project Jen!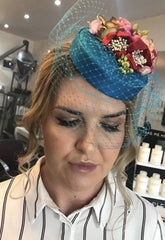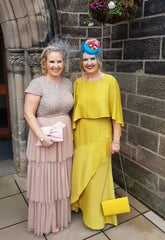 I had so many compliments on my pillbox hat! Anna made the colours bespoke to suit my dress and sent me regular progress updates to make sure I was happy. Brilliant service from start to finish, thanks so much Anna!