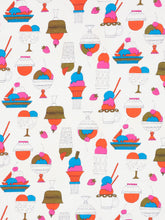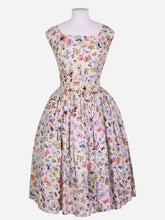 It was a wonderful delight to discover Andy Warhol's work as a textile designer. I must say it is one of the best exhibitions I've seen. It runs from 31st March and ends 10th September 2023.
"The exhibition includes over 45 of Warhol's textile patterns from the 1950s and early 1960s, depicting an array of colourful objects – ice cream sundaes, delicious toffee apples, colourful buttons, cut lemons, pretzels and jumping clowns exhibited both as fabric lengths, some in multiple colourways, and as garments."
As always, it was a great pleasure for me to create a collection of hats for the Fashion and Textile Museum shop. I took inspiration from the delicious prints of the exhibition and delved into 1950s fashion. The plain-coloured hats come in soft pastel pink, blue and mauve. I also thought it would be nice to have a striking striped version made from Ticking, in black or pink, with cute chin ties. The colours, shape and bow under the chin make it a very chic timeless classic.