It was only a few weeks before an important wedding, and Lisa was running out of time to find the perfect vintage hat to match her coat. I asked her to email me some pictures so I could see the colours close-up. The delicate brocade patterned coat had a softly faded coral velvet collar. Thus I sent Lisa some swatches of soft pink/shot coral silk as an idea for the base of the hat. It was quickly agreed that although the colour was great, I should add a layer of tan tulle to recreate the subtle nuance time had given the coat. All that was left to do to finish the little hat off was an elegant nude blush veil, and a posy of flowers to match those of the brocade. As always, I used a mixture of handmade flowers and paper millinery blossoms. I opted for champagne-coloured satin and pink silk to make Lisa's flowers. Despite the pressure of the timescale, the project was both exciting and inspiring. 
When Lisa sent me the pictures of herself on the day, I couldn't believe how gorgeous the whole ensemble looked. I felt really pleased it had all come together so perfectly. She looked absolutely stunning. Mission accomplished!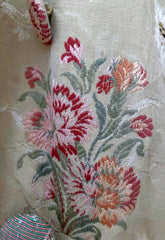 "I have so many hats, most of them vintage. I love hats, and I don't believe they should just be for special occasions. However, I had a very special wedding to go to, and had sourced a very special 1930s coat to wear. I kind of generally take the attitude that the right things will find their way to me, and so whilst I had been unsuccessfully looking for just the right hat, I was unperturbed not to have found it. At 3 weeks to go, eventually panic set in and I set about trying to find a milliner who would "get it". Luckily, I found Anna. We talked about what I had in mind, exchanged photos and ideas, and before long the most beautiful pink box arrived in the post. It couldn't be more spot on. I love it and had so many compliments on the day. Thank you Anna for my first commissioned hat, it won't be the last. " Lisa
Lisa's Vintage Dahling inspirational Instagram page.