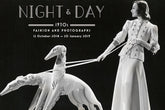 It's always an honour to have my hats sold at the Fashion and Textile Museum shop, so I was very excited to work on a fitting collection to go alongside the 
Night and Day: 1930s Fashion and Photographs exhibition.
With its lovely bias cut dresses and sculptural silhouettes, the period is an inspiring one in terms of fashion. I reworked my classic little beret by giving it more body to play with on the top. I also created two different kinds of tilt hats, which were very fashionable at the time. More of my collection and inspiration can be seen in the Summer photo shoot Fashioned in a Dream. The "Rendez-Vous" tilt hat is almost like a mini trilby with net and is exclusive to the museum. Also available are my unmistakable little Coquette pillbox hat and satin Luxe turban.
Modelling the raspberry beret here, is the lovely Dee who will look after you when you visit the shop! 
Exhibition Dates: 12 October 2018 – 20 January 2019