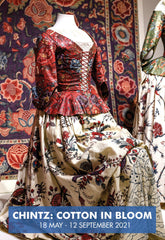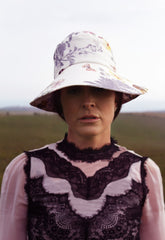 What a wonderful opportunity to design a collection around Chintz. As a milliner, I love using printed cotton fabric and especially furnishing fabric for its wonderful stiffness. I've always collected remnants, offcuts and vintage curtains for their beautiful floral designs. When it came to making the hats for the museum shop, I went through my stash. I came across a very precious piece of Sanderson "Kandahar" that my grandmother had given me years ago.

I nearly put it away again, but a little voice inside me told me to use it. It was just too perfect for the theme and the pictures of the exhibition I'd looked at for inspiration. You can see it in the picture below. I could only make 3 of these hats but I'm sure my grandmother would have approved.

It's important to give things as many lives as possible so they can be enjoyed over and over again.
I've made some "Inès" cloche hats and I decided to work on a playful wide brim sun hat, the "Paulette". My "Inès" cloche is a reproduction of my french great grandmother's hat. A timeless classic and a very meaningful hat for me because it started my career as a milliner. You will also be able to buy a very sweet child hat called the "Petite Fleur" exclusively from the shop.
Fashion and Textile Museum,
18 Bermondsey Street, London SE1 3XF
Chintz: Cotton in Bloom
Exhibition dates: 18th May - 12th September 2021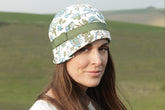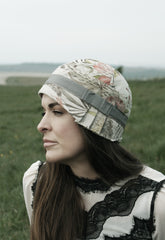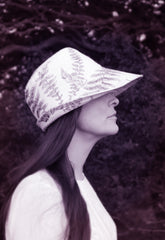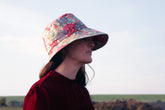 Photos & styling by Anna Chocola
Model: Emily Forsyth